DUCATI PANIGALE V2 V4 BLACK TITANIUM OIL DRAIN PLUG STRONG MAGNET
DUCATI PANIGALE V2 V4 BLACK TITANIUM OIL DRAIN PLUG STRONG MAGNET
Description
DUCATI PANIGALE V2 V4 BLACK TITANIUM OIL DRAIN PLUG STRONG MAGNET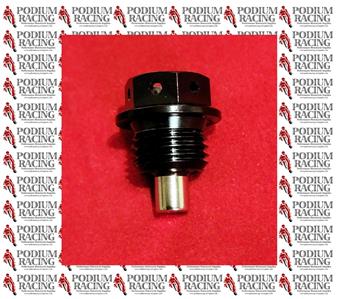 Description
  BUY WITH CONFIDENCE FROM PODIUM RACING.
(Ducati parts specialist)
This listing is for one BLACK Titanium Oil Drain (Sump) Plug with an extra-strong rare earth magnet.
This is an M15x1.5mm plug equivalent to Ducati part numberS 89310153A & 89310151A
Our Titanium Oil Drain Plug has several unique features:
– Made from Grade 5, 6AL-4V Titanium, very lightweight, corrosion-resistant but much stronger than either 6060-T6 or 7075-T7 aluminum alloys commonly used in competitor plugs
– Pre-Drilled for Safety wire
– External hex for a 14mm wrench
– Extra strong rare earth magnet, press-fitted tightly into titanium body and will never fall out
We also have matching Titanium Oil Filler Plugs with the same features available in our store. 
Our Titanium Oil Drain Plugs will fit:
| | |
| --- | --- |
| Ducati Panigale V4 25th Anniversario 916  | 2020, 2021 |
| Ducati Panigale V4 R  | 2020, 2021 |
| Ducati Panigale V4 S  | 2019, 2020, 2021 |
| Ducati Panigale V4 Speciale  | 2019, 2020, 2021 |
| Ducati Panigale V4 Standard  | 2019, 2020 |
| Ducati Superbike 1299 S  | 2015, 2016, 2017 |
| Ducati Superbike 1299 Standard  | 2015, 2016, 2017 |
| Ducati Superbike 899 Standard  | 2014, 2015 |
| Ducati Superbike 959 Panigale  | 2019 |
| Ducati Superbike 959 Panigale Corse  | 2018, 2019 |
| Ducati Superbike 959 Standard  | 2016 |
| Ducati Superbike Standard Panigale R  | 2012, 2013, 2014 |
| Ducati Superbike 1199 Panigale  | 2012, 2013, 2014 |
| Ducati Superbike 1199 Panigale S  | 2012, 2013, 2014 |
| Ducati Superbike 1199 Panigale Tricolore  | 2012, 2013, 2014 |