DUCATI 848 1098 BLACK TITANIUM SUBFRAME BOLTS (ALL MODELS)
DUCATI 848 1098 BLACK TITANIUM SUBFRAME BOLTS (ALL MODELS)
Description
DUCATI 848 1098 BLACK TITANIUM SUBFRAME BOLTS (ALL MODELS)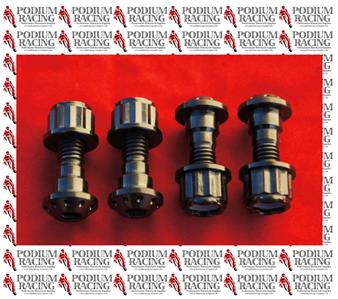 BUY WITH CONFIDENCE FROM PODIUM RACING.
(Ducati parts specialist)
This is a set (4pcs) BLACK TITANIUM subframe nuts and bolts for the Ducati 848, & 1098 all models.
Our triple tree bolts have our custom "dimpled" design and will add extra style to your bike. Replace the stock and corroding OEM bolts with this easy custom upgrade.
All Titanium bolt purchases now include a tube of Loctite anti-seize.
We have many more replacement titanium bolts for your Ducati with matching "dimpled" design to make your bike truly individual.
Changing the cheap plated standard caliper mounting bolts is a quick and easy upgrade for all Ducati's. Titanium really adds a unique look to your Ducati.
 – Made from a billet of aerospace grade Titanium
            – CNC Machined
            – Exact match to the stock Ducati bolt
            – 40% Lighter than the stock part
            – Stronger than steel
           – Use standard Ducati torque settings
           – We recommend using copper anti-seize