DUCATI TITANIUM SWING ARM SWINGARM PIVOT BOLTS SPINDLE SILVER 1199 PANIGALE
DUCATI TITANIUM SWING ARM SWINGARM PIVOT BOLTS SPINDLE SILVER 1199 PANIGALE
Description
DUCATI TITANIUM SWING ARM SWINGARM PIVOT BOLTS SPINDLE SILVER 1199 PANIGALE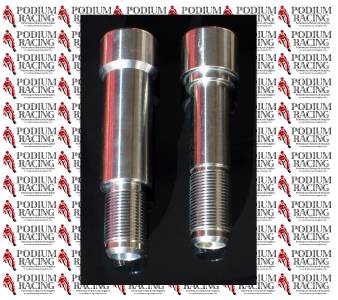 BUY WITH CONFIDENCE FROM PODIUM RACING.
(Ducati parts specialist)
You're looking at a new set (2 pcs) of the swing arm PIVOT bolts (spindle) for the Ducati 1199 Panigale in SILVER/NATURAL TITANIUM that will replace the standard steel bolts. These bolts are very strong and light and are precisely machined to match the originals. 
This kit will fit Ducati 899 & 1199 Panigale including S & R models.
These bolts weigh in at 175 grams vs the stock 305 grams saving vital unsprung weight and are also stronger ready for track days or full race set-ups.
Match these swingarm pivot bolts together with our swingarm pinch bolts for the ultimate weight savings. You can find all of our Titanium in our eBay store.
The standard nickel-plated steel bolts quickly corrode and detract from the fabulous look of the Ducati superbikes. Replace all of these nasty-looking bolts with corrosion-resistant titanium and save weight in the process!
  Made from a billet of aerospace grade Titanium 
            – CNC Machined 
            – Exact match to the stock Ducati bolt
            – 40% Lighter than the stock part
            – Stronger than steel 
            – Will not corrode