TITANIUM BRAKE & RESERVOIR COVERS FOR BREMBO RESERVOIRS DUCATI PANIGALE 899 1199
TITANIUM BRAKE & RESERVOIR COVERS FOR BREMBO RESERVOIRS DUCATI PANIGALE 899 1199
Description
TITANIUM BRAKE & RESERVOIR COVERS FOR BREMBO RESERVOIRS DUCATI PANIGALE 899 1199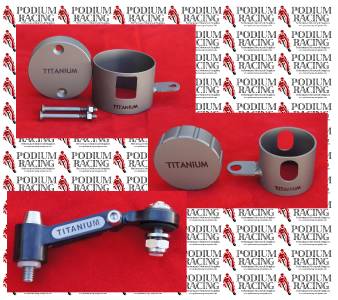 BUY WITH CONFIDENCE FROM PODIUM RACING.
(Ducati parts specialist)
Do you're yellowing and corroded brake and clutch reservoirs let down the look of your bike?
Cover your nasty plastic brake & clutch reservoirs with our genuine titanium slide-on covers.
Much lighter and less bulky than changing to billet reservoirs.
This is a very unique and classic upgrade that will transform the look of your bikes gauge area.
This kit includes titanium covers for the brake and clutch reservoirs plus two full titanium adjustable brackets for mounting including titanium screws.
Our covers are fitted by sliding over the standard Brembo plastic reservoirs avoiding any chance of leaks. The plastic tab on the reservoir needs to be removed, easily done with wire snipers and cleaned up with sand paper. The two brackets supplied are multi-position adjustable and the provided screw mounts into the standard bolt hole on the brake and clutch pump.
Check out our many other listings for a wide range of TITANIUM bolts. Replacing standard OEM bolts with stronger, lighter corrosion resistance TITANIUM is a quick and easy upgrade for any bike.