DUCATI TITANIUM SILVER/NATRAL REAR WHEEL CONE NUT PANIGALE 1199 1199S 1199R
DUCATI TITANIUM SILVER/NATRAL REAR WHEEL CONE NUT PANIGALE 1199 1199S 1199R
Description
DUCATI TITANIUM SILVER/NATURAL REAR-WHEEL CONE NUT PANIGALE 1199 1199S 1199R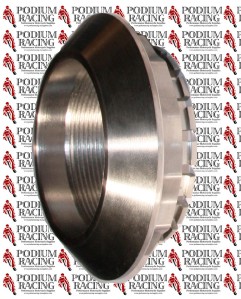 BUY WITH CONFIDENCE FROM PODIUM RACING.
(Ducati parts specialist)
You're looking at a new SILVER/NATURAL color billet Titanium rear wheel (wheel/right Side) cone nut for a Ducati PANIGALE 1199 including S and R models.
The cone nut combines the cone spacer with the nut into one piece of billet titanium.
 This nut will also fit the following Ducati models, 1098, 1098S, 1098R, 1198, 1199, & Diavel.
Changing to billet Titanium wheel nuts will save unsprung weight, are stronger than the OEM items, won't corrode, and look a whole lot better!
I also have a custom 2 in 1 wheel nut tool that is designed to safely remove the standards nuts and tighten the front & rear titanium nuts.
Check out our other listings for matching TITANIUM parts in BLUE, BLACK & SILVER/NATURAL including:
                                      – Single brake & clutch line Banjo's
                                           – Double brake line Banjo's                  
                                                       – 8  & 10 mm bleed nipples for the rear caliper
                   – Caliper mounting bolts
                            – Front & Rear disk rotor bolts
                                   – Ohlins & Showa fork pinch bolts
                          – Swing arm hub pinch bolts
                                  – Triple tree and fork clamp bolts
           – And much more