DUCATI BLACK TITANIUM KEY GUARD SCREWS / BOLTS 1199 PANIGALE (SET OF 4)
DUCATI BLACK TITANIUM KEY GUARD SCREWS / BOLTS 1199 PANIGALE (SET OF 4)
Description
DUCATI BLACK TITANIUM KEY GUARD SCREWS / BOLTS 1199 PANIGALE (SET OF 4)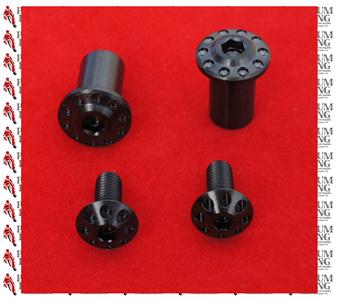 BUY WITH CONFIDENCE FROM PODIUM RACING.
(Ducati parts specialist)
This auction is for 4 BLACK color TITANIUM INSIDE & OUTSIDE Key Guard screws/bolts, that are a direct replacement of the standard Key Guard screws on the 1199 PANIGALE.
These dimpled titanium screws add really great detail and uniqueness to the Panigale look.
Why would you use screws that look like they come from the hardware store when you can use Titanium?
For added style these titanium screws have a "dimpled design" in the head which adds a very unique design and style!
Also check out our matching screen screws with the same design.
The cheap plated bolts Ducati used as standard quickly corrode and look terrible. Replacing these bolts with stronger, lighter corrosion resistance TITANIUM bolts is a quick and easy upgrade for all Ducati's.
 – Made from a billet of aerospace grade Titanium
            – CNC Machined
            – Exact match to the stock Ducati bolt
            – 40% Lighter than the stock part
            – Stronger than steel