DUCATI 1199 1288 PANIGALE NEW GLOSS CARBON FIBER REAR HUGGER FENDER MUDGUARD
DUCATI 1199 1288 PANIGALE NEW GLOSS CARBON FIBER REAR HUGGER FENDER MUDGUARD
Description
DUCATI 1199 1288 PANIGALE NEW GLOSS CARBON FIBER REAR HUGGER FENDER MUDGUARD
BUY WITH CONFIDENCE FROM PODIUM RACING.
(Ducati parts specialist)
This is a new high gloss finish carbon fiber REAR HUGGER (Fender/Mudguard). This carbon fiber cover will fit the Ducati 1299 & 1199 Panigale including Tricolor and all R & S models and all years.
This cover is very easy to fit, just sits on top of the Ducati plastic cover. This cover does not require any changes to the standard Ducati equipment and all dash functions contiue to work.
Our carbon fiber has a 3K twill weave pattern, made using a prepreg process and uses a high gloss UV protection coating. Our prepreg process results in a very strong but light product with a long lasting high gloss finish. 
Prepreg carbon which is also called dry carbon is characterized by a low space vacancy and even resin flow. Resin is impregnated into pure carbon fabric before forming, and then autoclaved. Carbon fiber parts made with a prepreg and autoclave process is much lighter(20-40%) and stronger than the inferior vacuum bagging process. We strongly recommend avoiding carbon fiber made with vacuum bagging which also often uses a mix of carbon fiber and fiber glass.
The Autoclave process is used, (150-200 degree and 800 mpa), to improve performance by eliminating pinholes in the carbon product surface and makes the product much lighter than wet layup and vacuum bagging method.
Prepreg carbon fiber fabric with the best UV protection epoxy resin.

Clear coated, making products UV protection much higher than others.

Consistent weave and no uneven or chaotic patterns.
PAYMENT OPTIONS: Podium Racing can only accept Paypal according to Ebays policy. Checkout can be completed without a paypal account using any major credit card just follow the "Pay Now" links.
PAYMENT METHODS: For Paypal payments use Ebays check out procedure. All payments are due within 48 hours of auction ending. Please do not bid if you don't intend to buy. SALES TAX: No sales tax!
WE DO COMBINE SHIPPING AND WE DON'T CHARGE HANDLING JUST PACKAGE WEIGHT!
IF EBAY DOES NOT DISCOUNT SHIPPING ON MULTIPLE PURCHASES THEN PLEASE CONTACT US AND WE WILL APPLY THE CORRECT DISCOUNTED SHIPPING RATES.

Podium Racing ships via USPS. Most small items are shipped by First Class Mail which usually takes 3-5 business days domestically and 6-8 days for International shipments.
Podium Racing can also ship Express or Overnight at an additional cost. Insurance is also available at an additional cost. E-mail notifications are sent out when the package has been shipped and a tracking number will be provided when available. Most items are shipped within 24 hrs of receiving payment. If there will be a delay in shipment we will notify you via e-mail.
The team at Podium Racing want all of our customers to be happy with their purchase and hopefully keep coming back. If you are unhappy please let us know and we will do all we can to correct the situation. If you are unhappy for any reason you can return the item to us within 7 days for your money back minus the shipping charges. If you are unhappy with the quality or there is a problem due to manufacturing defects you can return the item to us within 7 days for full refund.
Welcome to Podium Racing's ebay store and thanks for checking us out! Our store is run by long time riders and racers who all share a passion for riding, usually very fast. As a small store staffed with riders we love answering questions and we will respond to every email. Unlike the big stores we love our jobs, the bikes we ride and the products we sell.
Mostly we focus on Ducati's as these are the bikes we own and race. At the moment we have a 2001 996R a 1978 series Mike Hailwood Replica, 2004 999 and of course a 1098. In the racing stable we have a 2001 996RS. We started this business to provide high quality competitively priced products for the bikes that we love to ride. Everything we sell has been tried and tested on our bikes and we won't sell items that we would not use ourselves. Our goal is to make your bike go faster and look better while helping to keep the cost low and help keep a classic Ducati racer on the track!
Please contact us through our eBay store or you can find us on the web.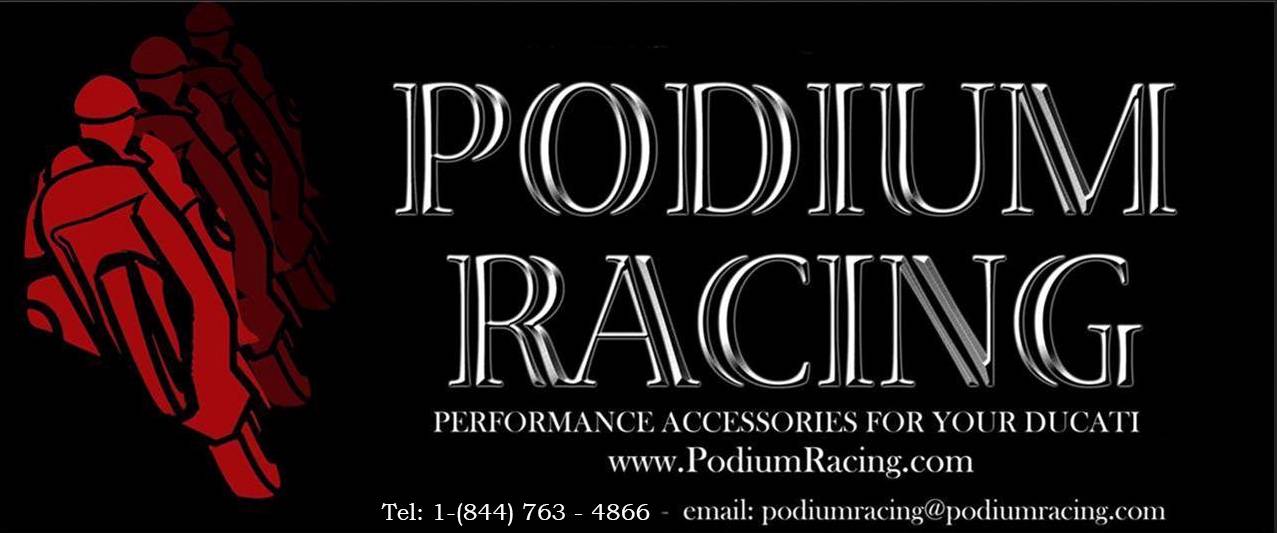 The complete eBay Selling Solution.