DUCATI 1198 SILVER TITANIUM 12 POINT RACE DRILLED FRONT CALIPER BOLTS
DUCATI 1198 SILVER TITANIUM 12 POINT RACE DRILLED FRONT CALIPER BOLTS
Description
DUCATI 1198 SILVER TITANIUM 12 POINT RACE DRILLED FRONT CALIPER BOLTS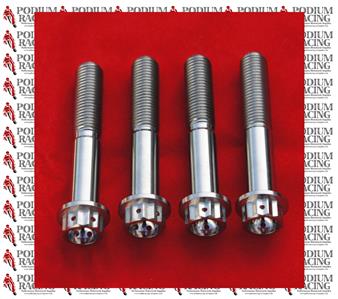 BUY WITH CONFIDENCE FROM PODIUM RACING.
(Ducati parts specialist)
This is a set (4pcs) 12 POINT HEX SILVER/NATURAL TITANIUM pre-drilled ready to be safety/race wiring for the front brake caliper mounting bolts on the Ducati 1198 all models. 
This kit will also fit Ducati models Panigale, Multistrada, 749, 999, 848, 1098, Streetfighter, Monsters, Diavel, and the Hypermotard.
All Titanium bolt purchases now include a tube of Loctite anti-seize.
Changing the cheap plated standard caliper mounting bolts is a quick and easy upgrade for all Ducati's. Titanium really adds a unique look to your Ducati.
 – Made from a billet of aerospace grade Titanium
            – CNC Machined
            – Exact match to the stock Ducati bolt
            – 40% Lighter than the stock part
            – Stronger than steel
           – Use standard Ducati torque settings of 43 Nm
           – We recommend using copper anti-seize
Check out my other listings for matching TITANIUM parts including:
                                      – Brake & Clutch Banjos & Bleed nipples                         
                                      – Kick stand bolt
                                      – Rear brake clevis pin set
                                       – Swing arm hub pinch bolts
                                       – Triple tree and fork clamp bolts
                                       – Brake & Clutch lever pinch bolts
                                        – Clutch basket collets & bolts
                                        – And many other Titanium goodies!